Preserving the history of "the old house", as we always called it, was one of the things that was most important to me during the re-build of our 1800's family farmhouse here in North Carolina. So naturally, our first step was to document everything in photographs. I hope you enjoy the tour of "the old house"!
I've been in love with this little old farmhouse for my entire life! It is by far the oldest home I've ever been in. The farmhouse and the farm it sits on has been passed down for generations in my family, all the way from my great great grandparents down to little old me. While we don't know the exact year it was constructed, older generations in the family estimate it to have been built before the civil war.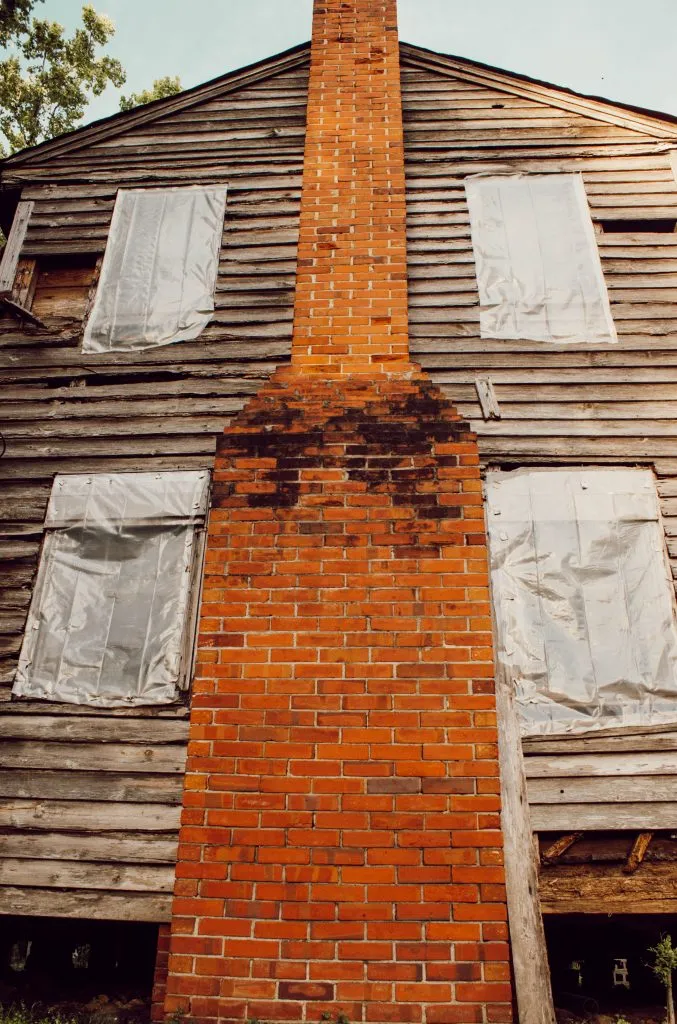 As a little girl, I would spend weekends here visiting my Granny and Papa. If I close my eyes, I can still see that old chimney and the profile of the house peeking through the trees as we round the bend coming down the old dirt road.
Y'all my Granny was literally born in this house! Her parents raised her here along with her three siblings. And then years later, my Granny and Papa raised their four children here.
It was originally built as two separate structures, with the kitchen in one building, and the living room and bedrooms in another. I've been told that houses were constructed this way so that if the kitchen ever caught fire, it wouldn't burn the entire house down. Family members have recounted walking across a wooden plank to get from the main house to the kitchen. Eventually they added a room in the middle and joined the two structures together to make one house.
I have so many fond memories here… like the time Granny gave me a pot, a wooden spoon and some collards so I could "cook" like her on the screened in porch… Playing school in the kitchen just to be near her… Watching the living room TV from my Granny's bed in the next room over as we went to sleep. I may not have lived in the house, but this house was my childhood.
If these walls could talk, can you imagine what they'd have to say?! We actually found several of my ancestors' names written on the walls in the upstairs bedrooms! Click here to see exactly how and where we incorporated this old wood into our rebuild!
Rebuilding the house was a labor of love! It was emotional and I agonized over every decision because I wanted to get it right… to do it justice if you will! Things here look a lot different now, as there was so much that needed fixing or needed to be completely reworked. But the essence of "the old house" and the feelings of coming home remain. I hope you've enjoyed this little tour, and thanks for following along…